Miloon Kothari questioned why Israel is a member of the UN and said he was disheartened by social media he claimed is controlled by 'the Jewish lobby'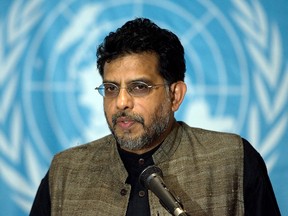 Article content
OTTAWA — Canada's ambassador to the United Nations in New York has condemned "blatantly biased, antisemitic comments" by a human-rights investigator at the international organization.
Article content
Bob Rae said in a tweet on Thursday that comments made by Miloon Kothari, who sits on a UN commission of inquiry set up in response to last year's 11-day war between Israel and Hamas in Gaza, are "a disgrace to institutions supposedly dedicated to the rule of law."
The commission is the first to have an open-ended mandate from the UN Human Rights Council. Critics say such permanent scrutiny shows anti-Israel bias in the 47-member-state council, while its supporters say the commission is a way to keep tabs on injustices faced by Palestinians under decades of Israeli rule.
Kothari caught attention for remarks he made during an interview on Monday on the podcast for Mondoweiss, a news and analysis website that says it provides an under-represented perspective on Palestinian rights in its coverage of the region and related US foreign policy.
In the interview, Kothari discussed the work and mandate of the commission and was also asked about criticism that has come from some governments, including Canada.
Article content
He said he was "very disheartened by the social media that is largely controlled by — whether it's the Jewish lobby or it's specific NGOs — a lot of money is being thrown into trying to discredit us."
Kothari said the commission is tasked with looking into humanitarian law, human rights law and criminal law. He said "Israel is in systemic violation" of all three.
"I would go as far as to raise the question as why are they even a member of the United Nations, because they don't respect — the Israeli government does not respect — its own obligations as a UN member state," he added.
Kothari, who was the UN's first special rapporteur on adequate housing, is one of three members of the commission of inquiry.
Irwin Cotler, who is Canada's special envoy on combating antisemitism, said the remarks mean Kothari is not the right person for that role.
Article content
"Miloon Kothari's comments reveal, and this is an understatement, a reasonable apprehension of bias," said Cotler, a former Liberal justice minister.
"That alone should disqualify him as commissioner, in a commission which itself is tainted by its open-ended and prejudicial mandate," Cotler added.
Mike Fegelman: The UN's rare moral stance against Holocaust denial

Avi Benlolo: Fighting anti-Semitism at the UN starts with dialogue
The Center for Israel and Jewish Affairs, an advocacy group, urged the Canadian government to condemn what it called the appointment of biased members to the commission of inquiry, saying Kothari flagrantly contravened UN rules on impartiality.
Ambassador Michele Taylor, who is the US permanent representative to the UN Human Rights Council, also condemned the "outrageous, antisemitic remarks" by Kothari and called on Michelle Bachelet, the UN human rights chief, to denounce them too.
Article content
Keren Hajioff, a spokeswoman for Israeli Prime Minister Yair Lapid, said the international community should be "outraged" over Kothari's comments.
Navi Pillay, the former UN human rights chief who heads the commission of inquiry, said in a letter made public on Thursday that Kothari's comments "seem to have been taken out of context." She maintained Kothari's comments on efforts to discredit the commission members were "deliberately misquoted to imply that 'social media' was controlled by the Jewish lobby."
The Associated Press reported that Kothari referred to Pillay's letter when asked for comment.