"It's amazing how much my uncle was known in the community and how many people want to support this amazing cause"
Article content
The family of a beloved Ottawa police officer and paramedic who died in 2020 is organizing a golf tournament to continue his legacy of giving back to the community.
Article content
Bruno Gendron, who worked as a paramedic before opting to change careers and join the Ottawa Police Service, made an impact through his dual careers and was instrumental in the campaign to equip Ottawa police cruisers with life-saving defibrillators. But it was his passion for youth sports that connected and endeared him to so many, Natasha Hurtubise, Gendron's niece, said in an interview on Tuesday.
To honor his memory, Hurtubise founded the Bruno Gendron Open, a charity golf tournament whose first iteration tees off on Friday, Aug. 12, at the Hammond Golf Club.
Hurtubise's initial goal was for the tournament to raise $15,000 for Their Opportunity, a national charity that subsidizes sports programming for kids. However, she has already at least doubled that number, she said. The full amount raised won't be tallied until after the event because a silent auction featuring prizes such as a TV, Ottawa Senators game tickets, a smoker and a spa package is likely to pull in more money.
Article content
It's all thanks to generous sponsors and community supporters who knew her uncle and were touched by his charming spirit and happy-go-lucky attitude.
"It's amazing how much my uncle was known in the community and how many people want to support this amazing cause," Hurtubise said.
The golf tournament will also give many of those who knew Gendron a chance to come together and celebrate his life. He died at the age of 47 after a cardiac event while mountain biking near Casselman in November 2020. At the time, funeral capacity was restricted due to the COVID-19 pandemic, and his family held a private ceremony.
"A lot of his friends or colleagues that weren't necessarily able to make it (to the funeral) will be there," Hurtubise said. "We want it to be like a celebration and really honor him."
Article content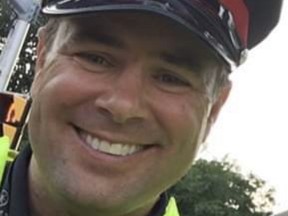 Gendron's friends and relatives have described him as someone who knew everybody, largely thanks to his deep roots in Ottawa's amateur hockey scene. He was a passionate player, referee, coach and president of the Eastern Ontario Cobras Hockey organization
He loved hockey and golf, Hurtubise said, and he knew the value of sports for children.
"He was always someone who looked for a child that had talent but that couldn't necessarily afford to play hockey and he would find sponsorships for them to be able to play," she said. "That's how a lot of people knew him, from his involvement in the community. He was always the first one to go help people."
Their Opportunity appeared as an ideal cause to honor Gendron's memory.
Article content
"What he was doing in the community was what Their Opportunity is doing on a bigger scale," Hurtubise said.
"It's perfect because we can reach multiple children and we can reach multiple sports as well."
An outpouring of community support has overwhelmed Hurtubise since she decided to run the golf tournament. The 160 available spots were filled instantly and a waiting list grew long. Next year, at the second edition of the event, it will have to expand, she said.
"I'm getting emotional just thinking about it," she said. "I'm just really happy for all the work we've done and all the support I've had from friends and family and the community. It's just been so overwhelming and it shows me how much my uncle was loved and what a great person he was. I'm just proud to continue his work from him even though he's gone.
Hurtubise is accepting donations via e-transfer to [email protected], and more information about the tournament can be found at sites.google.com/view/brunogendronopen.
With files from Blair Crawford