Olyad Suleiman died Tuesday night — by Thursday afternoon his parents still didn't know where their son's body is.
Article content
A heartbroken family in East Vancouver couldn't find out as of Thursday afternoon where their son's body is, or when they could recover it for burial.
Article content
As Muslims their religion calls for burial as soon as possible, and their boy died Tuesday after his Toyota Yaris was slammed into by someone fleeing Metro Vancouver Transit Police.
Olyad Suleiman had just graduated from Britannia Secondary School and had a $50,000 scholarship to attend the University of BC in the fall.
He and an unidentified passenger were returning from playing soccer and were stopped at a red light when a Nissan Altima that ran a traffic check at 10th Avenue and 6th Street in New Westminster slammed into their car at around 11 pm
Suleiman and his fellow soccer player/passenger were declared dead at Royal Columbian Hospital.
Suleiman's family, however, had still not yet seen their boy's body, still didn't know as of Thursday afternoon where their son's body even was.
Article content
"Nobody has come to help them or to even explain to the family what is going on, where is the son," Ariadne Armond, a neighbor of the Suleimans, said Thursday afternoon. "The mom is devastated, no Victim Services, nobody came.
"He was a very good kid, a very good example for the youth in the community."
Olyad was the eldest of seven children. The family lives in the Strathcona neighbourhood, after immigrating from Kenya six years ago.
"The family only knows what they saw on the news," Armond said. "They are a nice family, just because they are immigrants, poor (they answer), they have a very clean house and are very nice people."
The last contact Olyad's family had with him was a phone conversation with his father at around 10 pm on Tuesday.
Article content
"When his dad called back around 11, it went to voicemail," Olyad's friend, Abdi Ahmedyasin, said.
By 1 am on Wednesday, the family was frantic.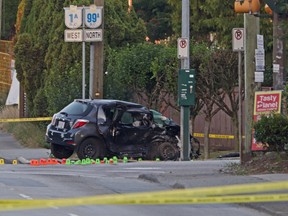 They had been told by the Vancouver police to wait for news, but friends of Olyad's joined the family as they went first to the police detachment on Cambie Street, then they split up in taxis to canvass hospital emergency departments.
"It was not like Olyad to not call," Ahmedyasin said. "It was not like him to be out that late."
One group was on its way to the Edmonds Community Center in Burnaby to see if Olyad's Toyota Yaris might be in the parking lot when they came across police at the accident scene and were directed to Royal Columbian. By then it was probably 3 or 4 am, Ahmedyasin said, and the family still could get no information.
Article content
"They were like, 'We can't tell you anything, just hang out, somebody will come talk to you.' Every hour we'd go back and the same thing."
A Nissan Altima had sped away when Transit Police tried to stop it Tuesday night, Const. Amanda Steed said in a news release after the fiery fatal crash.
"A short time later, the vehicle was located on fire, after causing a multi-vehicle collision," the release said.
Seven ambulances and a supervisor responded to the crash at the New West-Burnaby border, BC Emergency Health Services said, and three people were taken to hospital, two in critical condition.
The driver and passenger in the fleeing Altima were arrested. Charges of prohibited driving, dangerous operation of a motor vehicle causing death and flight from police have been recommended.
Article content
Steed said Burnaby RCMP's serious crime unit is helping with the investigation, and the Independent Investigations Office of BC (IIO) will probe the police actions.
Postmedia News asked for specifics as to why Transit Police tried to pull over the Nissan, and how the family can get help and answers.
"I am unable to provide further details regarding the reason for the traffic stop as the IIO are handling that portion of the investigation," Steed replied via email. "Any further questions can be forwarded to them."
The independent investigations office said it's probing the very questions Postmedia submitted, but because of that investigation and pending criminal charges, the office can't comment, a spokeswoman said.
Anyone who saw the crash or has dashcam footage and hasn't contacted police is asked to call 604-515-8300 (or text 87.7.77).
— With files from Joe Ruttle and Tiffany Crawford