The man was a suspect in three deadly shootings in Montreal and Laval this week.
Article content
A suspect in three homicides committed in less than 24 hours in Montreal and Laval has been shot dead by police in a motel parking lot, Montreal police announced Thursday morning.
Article content
The bombshell development is the latest chapter in a story that has left some police observers speculating whether a serial killer was on the loose in the Montreal area.
Montreal police provided no details on Thursday morning's shooting other than to say it occurred at a motel in the borough of St-Laurent. Any further questions were referred to Quebec's office of independent investigations (BEI), which is assigned to examine any police operation in Quebec where a death or serious injury occurs. A parallel investigation into the shooting has been launched by the SQ, which will also provide technical support to the BEI.
According to a statement issued Thursday morning by the BEI, a Montreal police SWAT team executed a warrant at a motel on Marcel-Laurin Blvd. at 7 am Thursday.
Article content
The BEI said officers on the scene were confronted by an armed man, shots were fired and the suspect was hit by at least one bullet. The suspect, 26, was declared dead at the scene.
SQ spokesperson Audrey-Anne Bilodeau said the man who was shot at the motel was known to police because they had responded to calls in the past reporting that he was suffering from a mental health problem.
"From what we know, he was not known to police in terms of organized crime. The Montreal police answered a few calls (in the past) for mental health (issues) related to this guy," Bilodeau said. "So we don't know if it's because of mental illness or another motivation. He it's under investigation.
"For the moment it looks like (the victims) were randomly chosen by the suspect. It looks like there is no link between them and the suspect."
Article content
Bilodeau confirmed that the man who was shot at the motel was a suspect in all three of the homicides.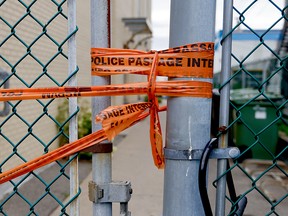 Police tape was visible at the back of the motel. Roberge Dubé, a man who said he had spent the past month at the motel, said he left the motel Thursday morning with some of his belongings packed in a garbage bag on the front passenger seat of his Ford Mustang.
"I tuned on the TV and saw it," Dubé said. "I didn't hear anything. I was really surprised. I came out and there were police everywhere. They told me I can come back (Thursday) night."
Darrell Holmes, a St-Laurent resident who lives near the Motel Pierre, said he decided to take an Uber to work Wednesday night because he feared for his life after hearing media reports that victims were being shot at random, including André Lemieux, who was shot in St-Laurent.
Article content
"I'm always keeping up to date on what's going on in the news and the fact that it was going on in St-Laurent… you worry about these things. I was very concerned. I wasn't going to stand at a bus stop at night with what was going on.
"If you live in St-Laurent you know the Motel Pierre is not the best place in the world," he said. "You only go there if it's for something shady.
"I wasn't surprised, not shocked one bit. I was disappointed because St-Laurent is known to be a safe place to live. But now I'm starting to worry. I'm thinking maybe it's time to move," Holmes said. "It's not safe anymore."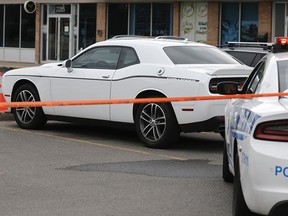 A man who works at a car wash near Motel Pierre said he wasn't surprised to learn a murder suspect had been gunned down there.
"This is really a sh—y area," the man said, asking that his name not be published. "There's often something bad going on at that motel. They took a body out of it months ago."
Article content
Abdel Mefth, another St-Laurent resident who lives close to the motel, said he was surprised when he woke up and learned what had happened just 400 meters from his home.
"Murders by firearm, they are becoming more frequent. It's really getting frustrating," Mefth said. "If it really was random, just for fun, then I don't see how we can walk around the city and feel safe. This motel is really old and it has a bad reputation."
Three vehicles parked in a lot that is part of a shopping mall next to the motel were surrounded by police tape Thursday morning. The police seemed to be paying particular attention to a white Dodge Challenger with Quebec plates.
While the details of what police led to the suspect at the motel have yet to be made public, the uncovering of a growing number of links between the three murders — all victims were on the street at night, alone and shot at close range — as well as the apparent randomness of the attacks suggested to some police observers that they may have been dealing with a possible serial killer.
Article content
Montreal Mayor Valérie Plante took to social media Thursday morning to thank the police forces involved in the investigations, saying "Once again our police have shown their efficiency and devotion to the safety of Montrealers."
Plante also offered her condolences to the families of the victims.
At 9:30 pm Wednesday, Laval police answering a gunshot call found a man in his 20s shot dead on Clermont St. in the city's Laval-des-Rapides district. The killing followed the fatal shootings a day earlier of two men in Montreal.
The first of Tuesday night's shootings was reported around 9:45 pm at Jules-Poitras and Deguire Blvds. near Roman-Zytynsky Park in St-Laurent. Officers found the body of a 64-year-old man who had been shot at least once in the upper body. He was declared dead at the scene. The victim was André Lemieux, father of local professional boxer Dave Lemieux.
The second victim was Mohamed Salah Belhaj, 48, killed a few kilometers northeast of the first shooting, at an intersection in the Ahuntsic district around 10:50 pm He, too, had been shot at least once in the upper body and was declared dead at the scene.
This story will be updated.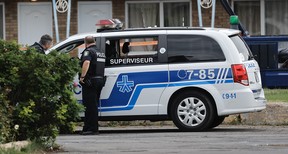 Two men, including boxer David Lemieux's father, shot to death in separate incidents

Nicolas: I'm tired of people looking at the US and forgetting about gun violence right here at home