RCMP, OPP and municipal forces are sending reinforcements for the arrival of 'Rolling Thunder Ottawa'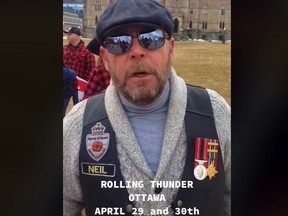 Article content
OTTAWA — One of the organizers of a planned motorcycle convoy is warning of a "free-for-all" on Friday if Ottawa police don't allow hundreds of protesters to bring their bikes onto the streets around Parliament Hill.
Article content
The "Rolling Thunder Ottawa" convoy plans to do a loop through downtown next weekend, with a planned stop at the National War Memorial.
Police say they will not allow vehicles in the area around Parliament Hill or the National War Memorial as part of a protest.
Ottawa police say the RCMP, Ontario Provincial Police and other city police services will send officers to help enforce the new rules.
Organizer Neil Sheard, who has been involved in protests against COVID-19 restrictions, says in a YouTube video that without a route to follow there will be a "free-for-all" and a safety issue, unless police reconsider.
Community Solidarity Ottawa, a coalition of local labor unions, community organizations and residents, says the Rolling Thunder Ottawa motorcycle ride is not the bike rally in support of veterans that it claims to be, but rather little more than an extension of the "Freedom Convoy " that tied up the city's downtown core in February.
Article content
"Rolling Thunder is a direct threat to our community and the far-right politics it brings with it are a broader threat to our safety and democracy," the group said in a media release Saturday.
Earlier this year, downtown Ottawa was gripped by a big-rig convoy protest that jammed city streets for three weeks, filling the city core with diesel fumes and the sound of air horns.
Rolling Thunder Ottawa's website contains little information about the group, but one of its three listed "partners" is Live From The Shed, a Waterloo-based Youtube channel that purports to share "the stories of truckers, volunteers, streamers and other heroes from the Freedom Convoy to Ottawa and the wider Canadian Freedom Movement."
Another of the rally's partners is Freedom Fighters Canada, whose stated goal is "the end of all government mandates; the end of all tyrannical bills and legislature."
The third is Veterans for Freedom, whose mission is "to rally Canadian Armed Forces veterans across Canada by mobilizing and sustaining lawful civic action in order to restore the fundamental rights and freedoms of Canadians."
Ottawa Police Service interim chief Steve Bell is expected to provide an update on police preparations for the convoy during the Ottawa Police Services Board meeting on Monday.
With reporting by Bruce Deachman of the Ottawa Citizen, and Canadian Press