There's only one rule: Be respectful of others.
Article content
When Tara Sypniewski was trying to understand what it meant to be transgender in the late 1970s, she went to the library.
Article content
The pickings were slim. For years the only book she could find at the Ottawa Public Library was Transvestites & Transsexuals: Mixed Views by American sociologist Deborah Heller Feinbloom.
At the library at Carleton University, where she was studying English, Sypniewski read case histories in a book by British sexologist Henry Havelock Ellis, who died in 1939.
While digging through a card catalogue, she found a fake card planted in the files with a listing for the Society for the Second Self. It gave her an address in California that helped her reach out to other trans people in Ottawa. By snail mail.
Later, she got a job in the Museum of Nature library. "There was a place I could live, I could grow in," she said.
Now Sypniewski has opened the Ottawa Trans Library in a former antiques store in Hintonburg.
Article content
"I have an itch for social justice and I do what is meaningful for me personally," said Sypniewski, who has been active in Ottawa's transgender community since the 1980s and was one of the founding members of Ottawa's Gender Mosaic in 1988.
"I know what it was like when I was young. And, even though it's better now, I know it's still not easy. People have an opportunity to come in here. It's a non-judgmental space."
The library consists of a lending library of books on trans themes and issues and a free library of non-trans books. There are four sitting areas and a free coffee station. There's only one rule: Be respectful of others.
It is also a philanthropic venture. Sypniewski has budgeted the money to pay the lease for two years and has an acquisitions budget to buy more books.
Article content
"At my age, it's fairly simple. Rather than travel — I traveled a fair amount when I was younger — I thought I would serve the community a little bit," she said.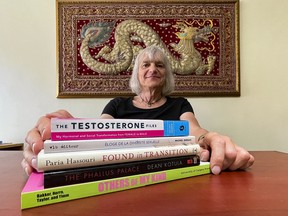 Sypniewski started the Trans Ottawa website in 2017 and proposed the idea of ​​opening a library. But she envisioned a little hole in the wall. The 700-square-foot space offers enough room to hold other events.
So far in July there have been a board game night, a clothing swap and a discussion of Michael Crichton's 1975 The Great Train Robbery. (No, there are not any trans themes or characters in the book, Sypniewski said. The discussion group is open to people who like books in general.)
Although there's a lot of information on the internet, Sypniewski still feels there's value in books. Many of the books are from her own collection, but donations have been flowing in and there are materials in other genres, including graphic novels and local self-published zines. A publisher from Finland who heard about the library offered a series of poetry books.
Article content
Sypniewski is also interested in acquiring transphobic titles. She points to a copy of The Transexual Empire, a 1979 book critical of transexualism by feminist Janice Raymond, as one example on the library's shelves.
"You have to know where these ideas come from and how they still get circulated. I'm a librarian. I don't believe in censoring things. That's the way knowledge is accumulated and acquired," Sypniewski said. "You read and you think."
Sypniewski wants to hold more events with speakers on social justice issues.
"If this is an enduring institution, that would make me extremely happy. I meet new people and new ideas all the time," she said.
"When you plant a seed, you never know what will happen."
The Ottawa Trans Library is located at 1104 Somerset St. W. It will be open this Saturday from noon to 5 pm It will be closed this Sunday, but will then resume regular hours: Sundays from noon to 5 pm, and both Wednesdays and Fridays from 3 p.m. to 7 p.m.
To learn more, visit the library website at https://ottawatranslibrary.ca/