With spring planting season upon us, as well as rising food prices and projections that the Ukraine-Russia conflict will exacerbate food insecurity everywhere, SeedChange – a non-profit organization that works with farmers to protect seeds and grow food sustainably – has announced a new initiative to help ensure a more resilient and affordable Canadian food supply.
"When big players in the global food system such as Ukraine and Russia can't export their crops, Canadians have to brace themselves for continued food price increases," said Leticia Ama Deawuo, Executive Director of SeedChange. "Add to that supply chain issues caused by COVID-19 and climate change playing havoc with crops, and the cracks in Canada's food security are impossible to ignore."
The solution? "We need to boost local seed and food production to keep food affordable for everyone and strengthen our country's food security – and the time to start is now," Deawuo said.
To this end, SeedChange – which has a proven track record of helping farmers worldwide grow resilient crops by breeding and saving locally-adapted seeds – is using $750,000 in funding from Agriculture and Agri-Food Canada to launch a dozen local seed demonstration sites across the country – including three in Quebec – this summer. Farmers at each location will evaluate and showcase Canadian-grown, farmer-bred seed varieties.
Lyne Bellemare, a seed producer at Terre Promise farm on Île-Bizard (Montreal), produces 250 varieties of rare or heritage vegetable seeds for gardeners and farmers, and is a participant in SeedChange's programs.
"These new demonstration sites in Quebec are important because they will help farmers continue their work to improve the supply of diverse, homegrown seeds that can help produce a greater variety of diverse crops that are more resilient to climate change," said Bellemare.
"It's important to safeguard the food biodiversity we have left, but also to remember that farmers can continue to create new varieties tailored to their needs by themselves, right in their fields," she said. As an example, she said she has been working with SeedChange to produce a new variety of lettuce called 'Grosse Dodue', which grows delicate and delicious leaves, and that will be perfectly adapted to Quebec growing conditions.
"My hope is for more people to understand that collecting, conserving, studying, multiplying and sharing agricultural varieties is essential to increasing our food security," Bellemare said.
SeedChange is also working with more than 200 farmers across the country on other projects to increase local seed production, save seeds at risk of extinction, and breed new seed varieties better suited for local climate and soil conditions as well as organic production.
The project draws on the work of 35,000 farmers in various initiatives supported by SeedChange around the world, including new projects in Kenya, Tanzania and Ethiopia made possible by a $14.8 million funding infusion from Global Affairs Canada.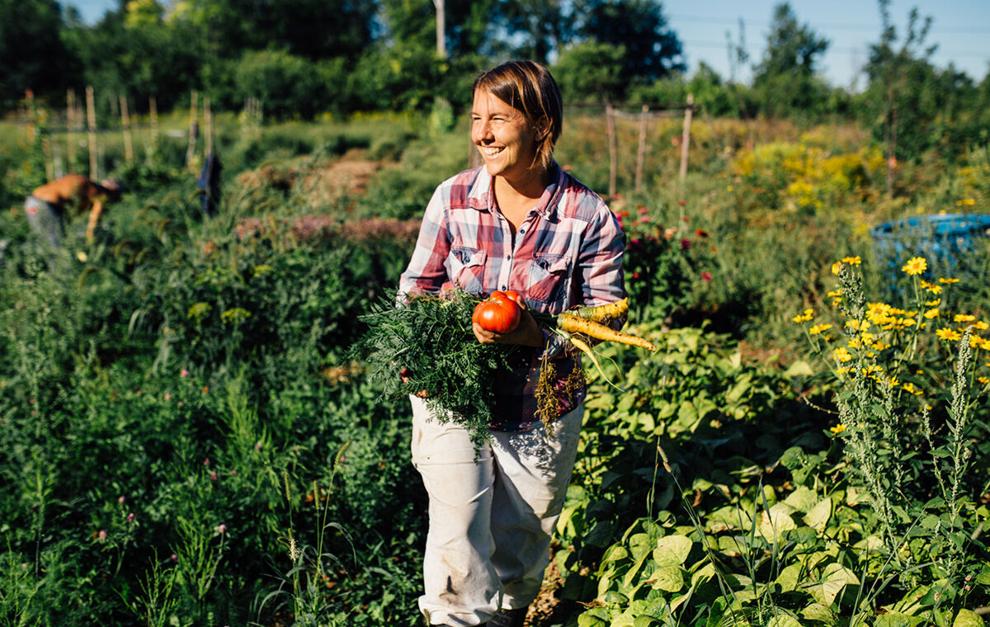 "Rising food prices are hard on everyone, especially on the 1 in 10 Canadians who are already food insecure, which disproportionately affects people on low incomes, children, women and those who are Black, Indigenous or People of Colour," Deawuo said. "That's why we urgently need to equip farmers so they can react quickly to keep their communities securely nourished, and that starts with ensuring they have access to the seeds they need."
Deawuo emphasized that there are actions every Canadian can take to help ensure a more secure, sustainable, and affordable food system in Canada.
"Most people already know it's important to support local food, but Canadians can also make a big impact by looking for local seeds – which offer a beautiful diversity of delicious varieties – for their own vegetable gardens," she said. "Not only do independent wider Canadian seed companies offer gardeners a variety of interesting fruit and vegetable seeds, but they also play a vital role in rebuilding Canada's seed and food security."
SeedChange has developed a list of Canadian seed companies that gardeners can contact to buy their seeds.
—SeedChange
— AB