The homicides took place less than a week after two teenagers were shot and killed in Montreal West.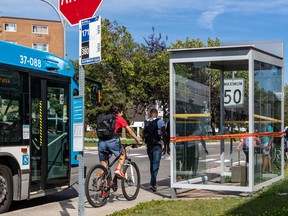 Article content
Montreal police say it's virtually certain that two fatal shootings carried out within the space of an hour in different parts of the city Tuesday night were committed by the same person.
Article content
Chief inspector Marie-Claude Dandenault said Wednesday evening that "one shooter is responsible for both shootings. For me to confirm it 100 per cent, we're waiting on a few details. We're waiting on the ballistics report. But 99 per cent the same person is responsible for both shootings."
Multiple media reports suggested the victims were chosen randomly by the killer, but police say they cannot confirm that at this stage.
"Right now, we can't say that," Dandenault said. "But I can't say it's not. That's the thing. Right now we have a lot of scenarios that we're looking at. We can't say they're random, but we can't rule it out."
There is no indication the homicides were gang related. The police have some eyewitnesses and have a lead on a vehicle.
Article content
The deaths are the latest in the plague of gun violence in the city this year. They occurred after two teenagers were killed last Thursday in Montreal West.
The first of Tuesday night's shootings was reported around 9:45 pm at Jules-Poitras and Deguire Blvds. near Roman-Zytynsky Park in the borough of St-Laurent. Officers found the body of a 64-year-old man who had been shot at least once in the upper body. He was declared dead at the scene.
The victim was André Lemieux, the father of local professional boxer David Lemieux. On Wednesday, the former International Boxing Federation middleweight champion posted a message on Instagram saying: "RIP dad."
Article content
According to court records, André Lemieux resided on Jules-Poitras Blvd. and close to where he was shot. He was recently charged in an impaired driving and drug possession case that was still pending at the Montreal courthouse.
Lemieux had a lengthy criminal record, but his most recent conviction came in 2008 after he pleaded guilty to a theft he carried out that same year. He received a sentence he could serve in the community as well as three years of probation.
The second victim was Mohamed Salah Belhaj, 48, killed a few kilometers northeast of the first shooting, at an intersection in the Ahuntsic district around 10:50 pm He, too, had been shot at least once in the upper body and was declared dead at the scene.
A spokeswoman for the regional health board, where the victim worked, confirmed his identity.
Article content
"We are disturbed to learn of the death in tragic circumstances of Mr. Mohamed Salah Belhaj, intervention officer at the Albert-Prevost Mental Health Hospital," wrote Emilie Jacob, a spokeswoman for the health board serving the Nord-de-l'Ile -of-Montreal.
"We would like to offer our deepest condolences to his loved ones."
Major Valérie Plante expressed her sadness regarding the killings.
Article content
Plante tweeted: "My heart is with the families and close friends of the two victims of these odious crimes last night in Montreal. I understand the worries of citizens following these events. Please know that the SPVM is doing everything they can to shed light on these crimes."
But Abdelhaq Sari, spokesperson for public security for opposition party Ensemble Montréal, said the Plante administration is not doing enough.
Sari said in a written statement: "Gun violence continues to increase in Montreal. Unfortunately, this issue is far from a priority for the Plante administration. We have proposed a series of solutions to address this issue: a summer security plan, a re-establishment of the number of police officers, an evaluation of the needs of social workers. … Unfortunately, none of these solutions have been put in place. The most troublesome aspect is the administration's refusal to accept any proposal with no alternative solution. How long will it take before Projet Montréal realizes that security is also the responsibility of the City of Montreal?"
Article content
Iyeb Abdrabou, who lives near the corner of Sauvé and Meilleur streets in Ahuntsic, said he heard what sounded like gun shots Tuesday night.
"Over the past two years, we hear a lot of shooting in the area and we start to become more worried about what's happening here in the neighbourhood," Abdrabou said. "I don't feel secure. What's happening in Montreal in the last couple of years, we thought this was happening in the United States or even Toronto, but now we can see that something is going wrong in the city. I don't think the police do enough. With the gangs, a kid could be hit, or a dad, just the wrong place at the wrong time. I have a 12-year-old daughter and she's about to go to high school and I'm really worried. I don't think I'm going to let her go on the bus."
Article content
Marvens Jean, a 17-year-old playing basketball in St-Benoit Park in Ahuntsic on Wednesday, right beside where the murder took place, said it's disturbing to think someone was killed meters away from the basketball court.
"It's the first time I've heard of someone being shot here," Jean said. "I thought we were safe here."
Crime scenes were set up at both sites and the slayings bring to 17 the number of homicides committed this year on the island of Montreal. There were 16 homicides reported during the corresponding period last year.
The Canadian Press contributed to this report.
Gunfire and violent crime are on the rise in Montreal, police report finds

Too young to die: When guns blast a hole in the political agenda