Those involved in the informal economy are known to respect each other's retrieval territory, while businesses leave out a regular supply of used items and bike shops offer free repairs.
Article content
A network of sidewalks, alleyways and busy roads is vital for dozens of Downtown Eastside residents who rely on the daily collection of recyclables, as well as their bikes, in order to make ends meet.
Article content
For these Vancouver "binners," solidifying community connections is invaluable — those involved in the informal economy are known to respect each other's retrieval territory, while businesses leave out a regular supply of used items, and bike shops offer free repairs.
The phenomenon of the "underground bicycle economy" is the focus of a study published in the journal mobility, examining the day-to-day lives of five middle-aged Downtown Eastside men who established "trap lines" to carry out the work. Participants interviewed in January and February 2020 were unhoused or lived in single-room occupancy hotels.
With around 10 per cent of Vancouver's homeless population participating in the eco-friendly venture, the study's lead researcher says the city should offer them a greater say in transportation planning and policies of the future.
Article content
"Based on our finding that the needs of some participants are not being met at present, we suggest cyclists living in poverty should be considered so they can continue to do their jobs safely," said Jeanette Steinmann, a PhD kinesiology student at the University of BC
While Steinmann commutes across Vancouver on a bike, she said her typical route differs from the residents she interviewed.
"For me, cycling is a choice, to go green. However, some folks are limited in their transportation options. Their cycling is more of a necessity."
As part of her research, Steinmann rode alongside study participants. "Accessing some bottle depots was tricky. In one instance, a pole in the middle of the sidewalk made it difficult to cycle over a viaduct," she told Postmedia.
Article content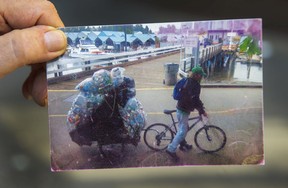 Michael Leland, 64, has been a self-employed recycler in Vancouver for more than two decades.
"I started seeing all these beer cans along Hastings Street and thought I could make a few bucks to buy booze," said the SRO resident who was not part of the study.
During his earliest days as a "binner," he was lucky to make $40 after 10 hours of carting around recyclables on foot.
"When I started out in 2000 at age 45, everyone was disgruntled. Businesses didn't like you rummaging through the alleys," Leland said.
However, after several years of collecting, he said he was able to build trust with locals of the community and added regulars to his route.
"Once they got to know me, that I didn't trespass and I did a good job, their attitude completely changed."
Article content
His first biweekly pickup at the Royal Vancouver Yacht Club coincided with a decision to haul his recyclables by bike. "Cycling made the job so much easier, and the towing trailer I modified allowed me to carry 150 pounds."
By the time returns of beverage containers a liter and under increased from five to 10 cents in November 2019, Leland was making $160 a day.
"The yacht club wouldn't bring out their bottles for anybody but me. Many times, they would even save me some steak."
For those that Steinmann studied, relationships they made on the job "represented an element of stability and reliability in the lives of recyclers, for whom so much of life was precarious," according to the research.
"The social connections that informal recyclers fostered through years of recycling were important not only for social support but also for securing a constant supply of recyclables," it said.
Article content
Most recycling depots in the city have moved from downtown to industrial areas, including the Regional bottle depot, an East Vancouver location known for accommodating regular recyclers.
"Each time you get a receipt from your bottle return, you can sign your name on it and enter to win a monthly draw for $100," said Leland, adding that the owner of the depot previously came to his aid after his bike was stolen .
The Four Directions Trading Post, formerly known as the Downtown Eastside Street Market, also provides recyclers with a place to purchase bikes at a low cost in times of need.
Leland said since establishing himself as a Vancouver recycler and starting a non-profit, The Binners Project, to support others in the can-collecting community, he has a new lease on life.
Article content
"I've found more of a purpose with work and stopped drinking. Recyclers like me are more respected and learning about the positive impact our work has on the environment."
Vancouver sex workers on high alert after recent violence in DTES

Removal of tent city on East Hastings delayed again as tensions boil over

How two Downtown Eastside street artists battled the taggers defacing Chinatown
---
More news, fewer ads: Our in-depth journalism is possible thanks to the support of our subscribers. For just $3.50 per week, you can get unlimited, ad-lite access to The Vancouver Sun, The Province, National Post and 13 other Canadian news sites. Support us by subscribing today: The Vancouver Sun | The Province.